5 Ways To Be More 'Entrepreneur'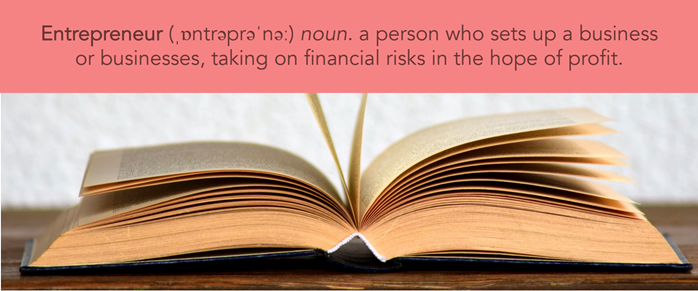 The term entrepreneur can mean many different things to people. 
At a recent Digital Marketing Meet-up event, we asked the audience what they considered an entrepreneur to be. 
The suggestions were plentiful and varied: 
Problem solver,
networker,
middle-man,
forward thinker,
risk taker,
challenge identifier,
business creator,
service provider... 
The list goes on and there was a caveat that it really depends on what type of business you are running, your skillset and your context.  One thing that became clear, however, was that you can't be all things to all people, especially when starting your own business!  Knowing what you are, and what you are not, is a great place to start when creating your own definition of entrepreneur.
This sense of identity will become the golden thread that will run through the centre of your business, influencing every aspect, including your strategy, product development and marketing.  The harsh reality is that you, as the founder, are the only person who will put your business at the centre of their lives, so making other people care is a crucial mechanism for growing your customer base.  You need to consider the competition, not just in the space you are working in but the bigger picture, because there are so many things vying for the attention of your target market. A great place to start is analysing and understanding your local and global context.
'When thinking about entrepreneurs we often focus on their achievements. However, placing such emphasis on outputs can be inhibiting. I believe it's more helpful to consider the entrepreneurial mindset. That's something that anyone in any line of work can adopt.'
Leo Sanders - freelance strategic brand consultant

To help you think about the best ways to bring a more entrepreneurial mindset to your business, we caught up with freelance strategic brand consultant and Digital Greenhouse co-worker, Leo Sanders.  Here are his top five tips to get you started:


1.  View problems as opportunities
: 
If you're solving a problem then chances are that you are adding real value for someone.  It's also a useful mindset to bring to any life or work scenario.  Don't be the person that's taking more from the room than they are giving.  As soon as you reframe a challenge into an opportunity it gives you a more positive and innovative mindset (and will quickly make you popular!).
2.  Think outside the box
: 
Easier said than done but the trick is to step back and get a different perspective.  Try to look at the bigger picture or think about the elephant in the room when it comes to your product, service, brand, business or even category.  It's generally helpful to do this in a completely different setting.  Thinking outside the box requires you to embrace 'wild ideas' – they're the ones that make you feel a bit uncomfortable.  But guess what?  It's much easier to tame a wild idea than it is to bring excitement to a flat one.  Also wild ideas tend to be the ones that spark a whole new train of thought that you never considered.
3.  Celebrate failures
: 
Fear of failure doesn't lead to fewer mistakes it leads to a culture of blame and shame.  And guess what?  This isn't conducive to creativity, innovation or growth.  Demonstrating that failure is part of life encourages people to take calculated risks in order to make things better and grow.  When you see a 'failure' as something to learn from it also takes the sting out of the feeling of 'getting it wrong'.  Take inspiration from the world of improv – there is no such thing as a mistake, just another scenario to respond to.
4.  Share ideas freely
: 
No matter what you think, you can't do everything on your own and you will never be an expert at everything.  When you open up and collaborate it helps you to grow and build ideas in new ways.  It can take you to unexpected places that you would never have arrived at on your own.  That doesn't mean you have to share everything but consider how an exchange of information can be mutually beneficial.
5.  Show passion and vulnerability
: 
Chances are that you'll have some tough moments as an entrepreneur.  There will be sleepless nights, money concerns and time pressures.  So make sure you go into it with passion because that's what will fuel you.  Don't forget that people respond to passion – they will be more likely to support and help something if they can see how much it means to you.  And vulnerability is important.  It's OK not to be OK (and show it) even when you're trying to make a success of something.  Ask for help, recognise your weaknesses and build a network of support around you.
Written by Leo Sanders, Freelance Strategic Brand Consultant
Originally posted on leoconsults.com
Image credits: Leo Sanders
These brilliant recommendations are all based around mindset and Leo suggests that we reframe challenges and difficult situations in order to overcome them, building a more successful business because of it. 
If you have been inspired by this article and are looking to start a new business or pivot your existing model, we have a variety of information and resources to help you on your entrepreneurial journey.  Our knowledgeable team can help you at any stage of your business from initial ideas and start-ups through to scale-up and mentoring support for more established businesses.  We also host a wide variety of events and programmes specifically designed to enable you to grow your venture, arming you with knowhow, introducing you to industry experts and providing opportunities to network with peers.  Sign-up to our newsletter to stay up-to-date by clicking here.
Want to start your own business?
Find guidance and support at our Startup Hub
Startup Hub