Business Accelerator Case Study: Ben & Charles, co-founders of EdTech Connect
Using a peer connected network, their business looks to bridge the divide between educators and technology industry experts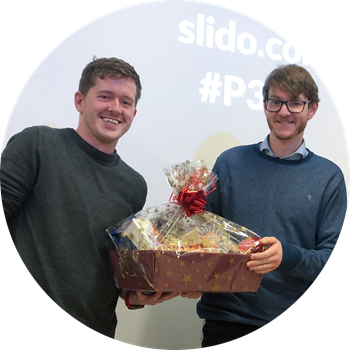 "It was a great experience working alongside all the other businesses over the 6 weeks - Amazing to see how far we all progressed through the programme and a real benefit to have businesses from all different backgrounds and areas to share experiences with."
Ben Wratten, Business Accelerator Class of 2019
"The experience was invaluable, giving us the opportunity to network with people we wouldn't have met otherwise."
Charles Christian, Business Accelerator Class of 2019
Watch Charles' video testimonial to hear his thoughts on the effects the Business Accelerator programme has had on his and Ben's business EdTech Connect:
Ben and Charles provide a great example of a situation many people find themselves in when wanting to start their first business: 
They had lots of knowledge and experience in the area they would like to start a business in.

They had identified a problem that they would like to solve (a gap in the market).

And they had come up with an idea which would solve that problem.

So what did they need help with?  Ben and Charles felt that they needed direction and dedicated time to develop their idea into a real business.  With topics like value proposition, business models and finance, revenue and cost structures all being covered on the Business Accelerator programme, it allowed them to explore different ways of monetising their idea to make the business viable. 
"The Business Accelerator took us on those first steps from our idea, our requirements and put it into motion."
The combination of interactive sessions, talks delivered by industry experts and one-to-one mentoring suited Ben and Charles well, meaning they could concentrate on developing different aspects of their business in turn.  A highlight for them was getting introductions and valuable time with experts and knowledgeable peers on the programme who they otherwise wouldn't have met. 
At the end of the Business Accelerator, we ran a presentation evening where each participant had the opportunity to pitch their business to an open audience.  Ben and Charles' business, EdTech Connect, was voted the 'Business of the Evening' by the audience for their clear and compelling presentation which painted a stark picture of the current skills gap in digital and technology subjects found in both schools and industry.  And then explained their idea for using a peer connected network to bridge the divide between educators and technology industry experts in order to foster the talent pipeline of the future. 
Three months on they have a demo of the digital platform and meetings scheduled to show it off to potential investors.  
What would they say to others thinking of applying? 
"The business accelerator can help provide anyone with a platform to sound their ideas and bring them into reality."
Charles about the Business Accelerator programme
Inspired to take part?
Join us for the next Starting Up Saturday
Apply here