Business Accelerator Case Study: Elizabeth, Independent Advisor & Trainer for School Libraries
Helping schools realise the true value of the school library and librarian across the curriculum.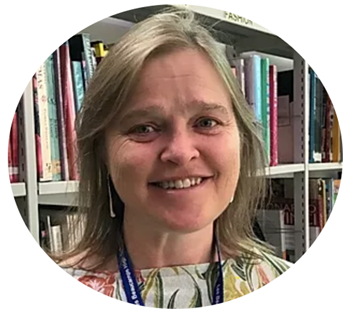 "I was really scared to start with as I didn't know what to expect but being surrounded by people who were on the same journey as me really benefitted me personally, as well as professionally."
Elizabeth Hutchinson, Business Accelerator Class of 2019
Watch Elizabeth's video testimonial to hear her experience of the Business Accelerator programme in her own words:
Elizabeth's career has included being a school librarian, an SLS librarian and Head of a Schools' Library Service, but she was ready to take the next step and start her own business as an independent adviser and trainer, specialising in all aspects of school libraries.  She signed up to the Business Accelerator to help her focus on the next steps and finished the programme really understanding what it is that she is selling and how important it is to her customers/clients.  
Elizabeth says that she really enjoyed sharing her business ideas with other people on the accelerator and felt that there was much to gain from the camaraderie she experienced throughout the programme.  This coupled with the support and help she received from the mentors and experts has made a really big difference to her business.  
Elizabeth is now making great strides towards her business goals, working with new clients and building up her customer base.  She was awarded the BEM in the 2020 New Years honours list for services to libraries.  To find out more about Elizabeth and her business click here. 
What would she say to others thinking of applying? 
"It is a lovely thing to share your business ideas with other people."
Elizabeth about the Business Accelerator programme
Inspired to take part?
Join us for the next Starting Up Saturday
Apply here